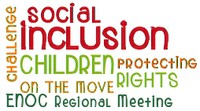 The Greek Deputy Ombudsman for Children's Rights, in collaboration with ENOC and UNICEF and with the financial support of the Rights, Equality and Citizenship Programme of the European Commission, held on 13-14 November 2017 in Athens, Greece a regional meeting of Ombudspersons for Children from across Europe on « Safeguarding and protecting the rights of children on the move: The challenge of social inclusion« .
Under the leadership of the Greek Deputy Ombudsman for Children's Rights, a questionnaire was circulated across the ENOC membership in September 2017 aiming to critically inform the meeting's discussions and assist in the preparation of a set of relevant Recommendations. From September to November 2017, 19 ENOC member institutions extensively contributed to the questionnaire.
The Athens meeting was attended by representatives of 23 European Independent Institutions for Children's Rights, 21 of which are ENOC members as well as institutions from Germany and Austria (no ENOC members). Ombudspersons for Children actively participated in the full day event elaborating the Recommendations, with the advice of Ms. Marta Santos Pais, Special Representative of the UN Secretary General on Violence against Children, Mr. Gehad Madi, member of the UN Committee on the Rights of the Child and UNICEF experts. The outcome of the event-the Recommendations- were publicly introduced by the Dutch Ombudsperson for Children in an open event that took place on 14 November 2017 in Athens, Greece. The open event was attended by all the participants of the regional meeting, representatives of UNICEF, UNHCR, IOM, Greek ministries, public bodies and non-governmental organisations.
Background « state of play » REPORT made with the contributions of 19 ENOC members
Ombudspersons for Children's RECOMMENDATIONS-13.11.2017, Athens