The Greek member of ENOC organises follow-up events on the 'Austerity Bites: Children's Voices' project
30 March 2015
The Office of the Greek Deputy Ombudsman responsible for children's rights held on 28 March 2015 a special event presenting and discussing 20 out of the 32 films that form part of ENOC's 2014 child participation project exploring the impact of poverty and austerity on children's lives and on the realisation of their rights.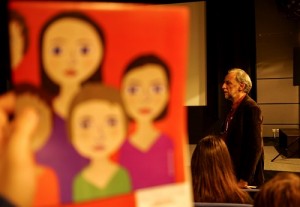 This first event, out of more to succeed, took place in Michael Cacogiannis Foundation's cinema hall made available for the purpose of two consecutive screenings (lasting for 4 hours).
Approximately 160 adults and children (aged 5-18) saw the austerity films, participated in the following discussions and provided their feedback by filling-in evaluation forms provided to them by the organisers.
The event also received consequent media coverage before and after the screenings. A positive feedback came also from different sectors with proposals to continue presenting the films and to develop special educational programmes in order to present the films in schools and to launch discussions and other connected activities among pupils.
The next event is already scheduled and will take place on 10 May 2015 in Salonica.  Further requests for screening followed from Rhodes, Karpathos, Ioannina and different municipalities of Athens.
Related materials: