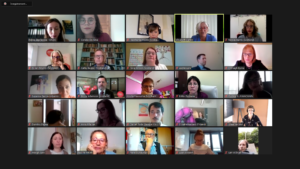 As part of its 2020 Annual work, ENOC organised the first round of discussion on the issue of Child Rights Impact Assessment (CRIA) on the occasion of a working seminar that will take place online (due to the COVID-19 situation) on 21 September 2020.
CRIA is a process, tool and report which supports a systematic assessment and communication of the impact of a proposal or measure on the rights, needs and interests of children and young people. CRIA focuses on how children's rights may be affected by the decisions and actions of governments, institutions and others in the areas of law, policy and practice.
As independent bodies, Ombudspersons for Children have the remit to report on any failures or omissions by national/regional authorities and to encourage the use of CRIA among all public bodies, to safeguard and promote the rights of all children. In 2020, ENOC is thus extensively working on mapping the situation regarding CRIA within the ENOC membership and formulating recommendations based on this analytical work.
This Seminar was the opportunity for participating ENOC members to share their knowledge, discuss and prepare the basis of the future ENOC Statement on the working theme. ENOC members with extensive experience on CRIA were called upon to share concrete case studies or materials that would help drawing up a list of common recommendations aiming at providing guidance to states on how to implement CRIA.
The Office of the Children and Young People's Commissioner (CYPCS) is leading the work on CRIA supported by Ms. Lisa Payne, external independent expert advisor.
On the same occasion, ENOC held a capacity building session on the review of ENOC Statutes to take place on Day 2 – 22 September – of the same event. This activity aims to work on improving the Network's internal procedures and processes. Based on the discussions, amendments will be presented to and voted by the General Assembly on 18 November 2020.
The Seminar is organised with the support of the Children and Young People's Commissioner Scotland.
Related Materials:
Agenda Day 1 – Child Rights Impact Assessment
Presentation of Dr Bronagh Byrne, co-Director of the Centre for Children's Rights, Queen's University Belfast, "Introduction to the UNCRC General Measures of Implementation: Demystifying Child Rights Impact Assessment"

Presentation of Lisa Payne, ENOC expert, "Key Findings from CRIA Synthesis Report & Questionnaire"

Presentation of Kjersti Botnan Larsen, Senior Advisor, The Ombudsman for Children Norway, "Children and Young People's participation in CRIA"