ENOC releases two new position statements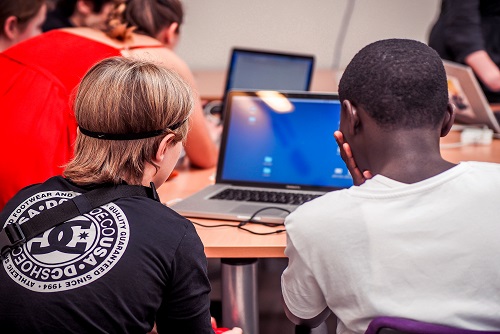 ENOC members, gathered on the occasion of ENOC's 23rd Annual Conference "Offline/Online: A Child's World. Children's Rights in the Digital Environment" and 23rd General Assembly meeting held on 25-27 September 2019 in Belfast, Northern Ireland/UK, adopted two position statements in two different areas.
In 2019 ENOC mainly focused on children's rights in the digital environment i.e. challenges, difficulties and advantages. A special Working Group (WG), chaired by the Office of the Northern Ireland Commissioner for Children & Young People, led the work on the priority theme and supported the statement drafting process. The WG Chair office designed a special questionnaire on the theme and collected feedback from 26 ENOC members from across Europe whose contributions have been collated and analysed in a Results Report. An Evidence Paper, prepared with the support of Elizabeth Milovidov, independent expert advisor on digital safety, provided supplemental insights into the state of affairs in Europe regarding children's rights in the evolving and innovative digital environment. An exchange of views between ENOC members, young people and recognized European and International experts in the digital sphere aiming at informing the preliminary terms of the ENOC statement on the same theme took place on the occasion of an ENOC working Seminar last June in Manchester, UK. The evidence report and subsequent 2019 ENOC statement provide an important opportunity to bring attention to the need to understand children's rights in the context of our rapidly changing digital environment and to ensure that governments and others across voluntary and private sectors are taking all necessary steps to promote and safeguard children's rights and to ensure their participation in this regard.
The European Network of Young Advisors (ENYA), a ENOC led child participation project gathering young advisors from 18 ENOC countries/regions, has worked in parallel on the same theme and has come up with a set of specific recommendations addressed to relevant authorities and fully reflected in ENOC's 2019 position statement on children's rights in the digital environment.
In addition to the main priority issue for 2019, one ad-hoc theme has been addressed by a Working Group specially set for this purpose. The ENOC WG on children on the move, led by the Ombudsperson for Children's Rights, French speaking community/Belgium, worked on the terms of an ENOC statement on ending child immigration detention, endorsed unanimously by ENOC's 23rd General Assembly last September in Belfast.

You can read the full statements and reports here: